---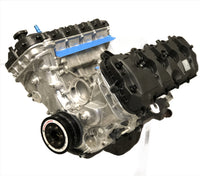 The LM2400 Drag Race Engine is the path you want to choose if you are looking to be ahead of the rest. This engine is capable of holding 1200+ WHP and has proven this with several customers! This is a great build to use for street & strip. This is an extremely reliable build that corrects the factory flaws known by the market and then some. Whether you are running a supercharger or turbo(s) this engine will take all of the abuse can feed it and ask for a few more lbs of boost! We HIGHLY suggest those whom are running a supercharger to add the double key feature to avoid damage to your crank snout. This engines built using the LM2400 Short block and all the necessary upgrades to create this long block. This engine will deliver smiles per every mile. Pull into the staging lane and overcome the competition; order your LM2400 Full Drag today!
LM2400 Full drag
LM2400 12mm Sleeved and Reinforced Short Block
Billet timing guides
L&M "LM1" race spec camshafts (Special Order for 2018+)
L&M Lockout Plates (Not Available for 2018+)
CNC Ported Cylinder Heads
L&M Valve Springs
L&M Retainers
ARP 2000 head studs
ARP Cam and Phaser Bolts(2011-'14 Only)
Billet Crank Sprocket
Billet Oil Pump Gears
New Factory timing kit
Standard configuration is undressed without timing or valve covers. If you would like to receive new covers or reuse your old ones please contact us.



Must Select for Ordering: With or Without Double Key Crankshaft and Model Year