---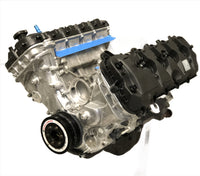 Want a reliable engine with potential to hold 1000-1100HP? The LM2000 Hot Street long block is our mid level long block.There are several upgrades over some of the cheaper long blocks that are very important when it comes to making serious power out of a Coyote engine. This is a great platform for supercharged car or those of you running a turbo(s). This long block consists of the strongest parts & upgrades we can offer. This engine will be great for daily drive, strip/track, and autocross! Pull ahead of the competition and place your order today!
LM2000 Hot Street
LM2000 Short Block (11mm headbolt)
L&M "LM1" Camshafts (Special Order for 2018+)
L&M Lockout Plates (Not Available for 2018+)
CNC Ported Cylinder Heads
L&M Valve Springs
L&M Retainers
L&M MLS Head Gaskets
ARP 2000 head studs
Billet Crank Sprocket
Billet Oil Pump Gears
New Factory timing kit
Standard configuration is undressed without timing or valve covers. If you would like to receive new covers or reuse your old ones please contact us.

This price is for a new full build and includes all the supporting components such as empty new cylinder head castings, rocker arm assemblies, intake and exhaust lifters.
Must Select Option for Ordering: With or Without Double Key Crankshaft and Model Year