---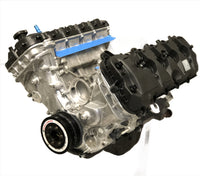 For those of you who are not looking to be a top dragster racer but more so are looking for a engine capable of holding more power and fixing some of the initial design flaws of the Coyote engine this is the platform for you! This is an entry level engine that's filled with great internals capable of holding around 800WHP! For those of you running a supercharger we highly suggest upgrading to a double key crankshaft. We also have a few more long blocks available for the Coyote in several horsepower ranges. If you are looking for added strength and a complete new sound to your Coyote this is the engine for you!
LM1600 Mild Long Block
LM1600 Short Block (11mm headbolt)
L&M "Intake Only" with "Paired Exhaust"
Ford OEM Head Gaskets
ARP 2000 head studs
ARP Cam and Phaser Bolts (2011-'14 Only)
Billet Crank Sprocket
Billet Oil Pump Gears
New Factory timing kit

Standard configuration is undressed without timing or valve covers. If you would like to receive new covers or reuse your old ones please contact us.

This price is for a new full build and includes all the supporting components such as empty new cylinder head castings, rocker arm assemblies, intake and exhaust lifters.
Must Select Option for Ordering: With or Without Double Key Crankshaft and Model Year