---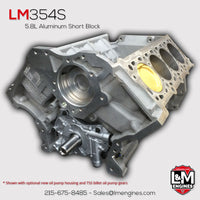 L&M Engines LM354S 5.8L Aluminum Short Block
Our LM354S short block package represents the culmination of our results driven design and race proven performance. The LM354S short block is built to be bulletproof under extreme conditions and meet the requirements of today's racer. We are also mindful that many of our customers are not building full blown racecars and will routinely run their engines on the street under typical street conditions … final application is always important.

The Build
| | |
| --- | --- |
| Block | Ford 5.8L Aluminum Block |
| Cylinders | Factory |
| Crankshaft | 5.4L Cobra Jet Steel Crankshaft |
| Pistons | LM880 Custom Pistons (9.5:1 CR, other compression ratios available) |
| Rods | Manley Pro I Beam Billet Rods |
| Rings | Total Seal Steel Rings for GT500 Plasma Bore |
| Rod Bearings | King Engine XPN Series |
| Main Bearings | King Engine HP Series |
| Fasteners | ARP ARP main studs and side bolts |
5.8L GT500 Aluminum Block
Builds include a Ford 5.8L GT500 aluminum engine block as used in the GT500s.

If you would like to reuse your old block, please call or email us to obtain an updated quote since pricing will differ when using customer supplied engine components.
New 5.4L Cobra Jet Steel Crankshaft
New 5.4L Cobra Jet steel crankshaft. We have found the Cobra Jet crankshafts to be one of the strongest crankshafts available for this application with extensive race proven reliability. Double keyed by us as a standard feature (Can still be used with single key dampers).
L&M Engines Custom Series Pistons
The stock pistons are a weak spot in the modular engine design. Our custom pistons retain the beneficial features while significantly improving the overall design.
Designed in house by L&M Engines and Manufactured by Diamond Pistons
Ceramic coated piston domes
.300" thick piston domes
.300" down ring
.130"+ skirts
Teflon coated skirts
Manley Pro I Beam Billet Rods
Manley Pro I beam billet connecting rods.
King Engine Rod and Main Bearings
King Rod Bearings XPN Series
King Main Bearings HP Series
Full Race Engine Prep
Every engine gets the full race preparation whether it's destined for the street or the track.
Measure main bearing bores and alignment
Install honing stress plates to measure plasma spray cylinders for size and fit
Wash block for assembly
Install pistons on rods with locks and check clearances
Digitally balanced crankshaft
Polish crankshaft and check journal dimensions
Wash crankshaft for assembly
Precision file end gaps of piston rings for required application
Measure main & rod clearances, selective fit bearings for proper oil clearance, install bearings
Assemble Ford Modular engine to short block configuration
Review all dimensions & clearances
Final QA and inspection