---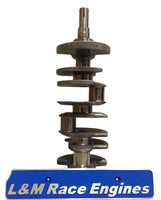 L&M Engines is now offering Billet Steel Crankshafts for the 5.4L & 5.8L Platform.
This billet crankshaft comes in factory stroke at 4.165". This will also come double keyed as a standard!
The 5.4L/5.8L factory crankshafts are known to take a lot of abuse paired along with the industry's largest supercharger's available. As many consumers have found; the factory crankshafts will only last so long before ripping out the factory woodruf keys or breaking the front snout off the crankshaft typically causing catastrophic damage.
The Cobra Jet crankshaft is a factory forged crankshaft which has unfortunately been discontinued. This has been the Modular market's go to crankshaft for year's beings its increased strength over the cast cranks found in the early 5.4L's.
We began adding a second key to the Cobra Jet crankshafts years back to add strength as well as decrease the load being applied to a single key. With two keys now in the crank snout you are essentially splitting the load and decreasing the potential for ripping either woodruff key.
No matter how much a factory crankshaft is modified, at the end of the day it will not be stronger than billet.
In today's market billet parts are the way to go for strength and longevity. This billet crankshaft is the answer to all of the common crank failures. Constructed of billet steel & already machined for the use of a double key balancer! Whether you are racing competitively or are looking for a stout engine this is the perfect addition to your build. This crankshaft requires no modification to your block. This is the exact crankshaft we use in our very own builds; purchase with confidence by a proven company.
Get your order in now!
If you aren't first you are last!