---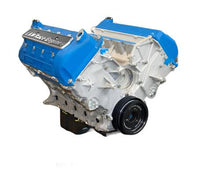 L&M Engines LM354L 5.8L Aluminum Long Block
Our GT500 LM354L engine package is the completed long block form of our short block offering LM354S. Available in two forms: undressed with no timing cover or valve covers, or an option of, fully dressed which includes new valve and timing covers. We have countless hours of research and development in the engines we offer and they are built to be bulletproof under extreme conditions such as drag or mile racing. We also take into consideration that many of our customers are not building full blown racecars and will often drive their cars under street conditions; final application is paramount. The LM354L can be finished with either a supercharger or a turbocharger setup and has put down impressive numbers in both configurations. This is the go to choice for a GT500 if you are looking to actually put down 1000+HP numbers. Customer reports have shown this long block has made 1200+ HP with various configurations
These "LM354L" includes the following
- L&M Engines Exclusive Ductile Iron Sleeves (thick wall & flanged)
- Factory Crankshaft- will come double keyed!
- Billet I Beam Connecting Rods
- Custom L&M880 Pistons ( Ceramic Coated Crown, Teflon Coated Skirt) Custom compression available for an additional charge.
- King Coated Main & Rod Bearings
- ARP Main Studs, Side Bolts, Head Studs, Cam Bolts
- Cometic Head Gaskets
- 8mm Timing Kit
- Billet Crank Sprocket
- L&M Custom Cams- Your Choice Of ( TMDR(+$100), Venom(+$100), NSR)
- L&M Custom Springs & Retainers
- Steel Back Oil Pump With TSS Oil Pump Gears
- CNC Ported Cylinder Heads
- Ferrea Intake & Exhaust Valves
- Springs & Titanium Retainers
This can include the following at additional cost.
- FGT Valve Covers (Shelby Winkle Blue)
- Timing Cover (Including factory hardware)
- Cast Aluminum Oil Pan (Including factory hardware)
- Rear Seal Housing ( Including factory hardware)
- ATI Balancer (Double Keyed) with Kinetik Crank Saver Stud

Standard configuration is undressed without timing, valve covers, ATI Balancer,  Oil pan, oil pick up, or windage tray. If you would like to receive new covers or reuse your old ones please contact us.

This price is for a full build and includes all the supporting components such as empty cylinder head castings, rocker arm assemblies, intake and exhaust lifters.
Options: Choose Non-Sleeved or Sleeved Block for extra durability

The Build
Block
Ford 5.8L Aluminum Block
Crankshaft
5.4L Cobra Jet Steel Crankshaft Double Key'd

Pistons
LM880 Custom Pistons (9.5:1 CR other compression available as option; compression change carries $150 upcharge)
Rods
Pro I Beam Billet Rods
Rings
Total Seal Steel Rings for GT500 Plasma Bore
Rod Bearings
King Engine XPN Series
Main Bearings
King Engine HP Series
Fasteners
 ARP main studs, side bolts and head studs
Cylinder Heads
CNC Ported GT500 Cylinder Heads
Camshafts
L&M Engines Custom Grind Installed and Degree
TMDR or Venom Cams additional upcharge

CNC Ported GT500 Heads
In a full build package we use factory Ford GT500 cylinder heads that are then CNC ported to our specifications.
Super Cobra Jet Oil Pump with TSS Billet Oil Pump Gears
New super cobra jet oil pump with Triangle Speed Shop's billet oil pump gears. A stout combination that corrects a common failure point on Modular Engines when pushing the horsepower limits.
Ferrea Super Alloy Valves
Ferrea super alloy valves are built to withstand the extreme heat requirements of turbocharged, supercharged, or nitrous oxide injected engines.
L&M Custom Camshafts Installed and Degree
We are the camshaft experts when it comes to the Ford Modular Engine. Every completed camshaft is verified against the design data to ensure the final product is within proper specifications. We then go on to use this production data to degree the camshafts into perfect position leaving no missed horsepower behind. This engine is timed using a new 8mm Factory timing kit that is modified to properly degree the camshafts.

Full Race Engine Prep
Every engine gets the full race preparation whether it's destined for the street or the track.
Measure main bearing bores and alignment
Install honing stress plates to measure plasma spray cylinders for size and fit
Wash block for assembly
Install pistons on rods with locks and check clearances
Digitally balanced crankshaft
Polish crankshaft and check journal dimensions
Wash crankshaft for assembly
Precision file end gaps of piston rings for required application
Measure main & rod clearances, selective fit bearings for proper oil clearance, install bearings
Assemble Ford Modular engine to short block configuration
Review all dimensions & clearances
Final QA and inspection
Some of Our Customers
Kenneth Polk's 2013 GT500
During the March 2015 Texas Mile, the new guy, Kenny Polk and his 2013 GT500 broke the mile recording with an impressive run of 221.8 against a head wind. Also powered by one of our 5.8L long blocks it was able dethrone the previous record holder, which was also powered by one of our engines.
Kenny returned for the 2016 March Texas Mile where he was able to break the record again this time pushing his car to an impressive 232.4MPH run.