---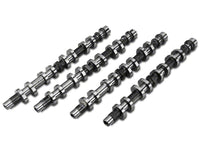 Our all-out race bred camshaft grind for 5.8L/5.4L 4V engine equipped GT500s that pushes the definition of aggressive for these vehicles. Used in many of our "low-boost" builds, this camshaft has proven itself to be a true performer. This camshaft grind has an extremely aggressive idle sound and a menacing exhaust note under acceleration, what we like to call the signature "Rauscher Idle"


Great idle rumble with approximately 8-11" in HG vacuum @ 850-900 RPM


Requires experienced tuner to calibrate throttle tip-in and decel. Properly tuned it should drive like stock.


Requirements
Requires springs and retainers
Requires a low vacuum bypass Click Here for Options
Requires 12 mm cam bolts Click Here for Options
Designed for medium/large PD superchargers
Ported cylinder heads are strongly recommended for optimal performance
Specifications
- Proprietary grind: 0.550" Lift,239@0.050"Duration Intake; 0.520" Lift, 245@0.050" Duration Exhaust


The L&M Edge
All of our camshafts are put through a QA process where they are verified against the design data to insure the final product matches our designated requirements. This results in consistent profile geometry and optimal final performance. If a camshaft fails quality assurance it is scrapped.