---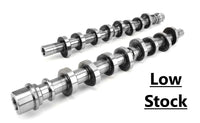 Specifications
Proprietary grind: 0.550" max lift 242@0.050" duration intake; 0.550" max lift 246@0.050" duration exhaust
Includes both left and right camshafts.This is one of many versions of our corrected TFS 2v cylinder head camshaft.


This camshaft addresses an issue with valve train geometry when using 2V TFS cylinder headers. When Trickflow® designed their cylinder heads they relocated the intake lifters to the opposite side changing the valve train kinematics. This change causes unexpected shifts in the installed centerline of the camshaft and the open and close points reference to the centerlines making them next to impossible to tune correctly. Our corrected grind addresses this issue by using a custom lobe profile that matches the modified geometry of the cylinder head. This allows your engine to properly operate and gain horsepower that would have been otherwise lost.


Requirements
For use with TFS cylinder heads only
May require new springs and retainers.
The L&M Edge
All of our camshafts are put through a QA process where they are verified against the design data to insure the final product matches our designated requirements. This results in consistent profile geometry and optimal final performance. If a camshaft fails quality assurance it is scrapped.