---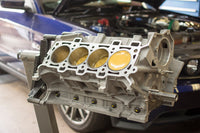 The LM2000 5.0L Coyote short block is the continuation of our Coyote race engine program. We expand on the durability of the stock Coyote engine block by installing our own custom made proprietary sleeves, which feature extra thick sleeve flanges allowing for the ultimate in strength and boost handling. All full engines and short blocks are race prepped, balanced, and blueprinted

For high power applications we recommend having our head bolt modification to eliminate cracking in the valley by the knock sensors.
Select Model Year, Double Key Crankshaft, and Compression Ratio For Ordering!
Don't Forget to order the 12mm Head Bolt Conversion!
Specs:
| | |
| --- | --- |
| Block | Ford 5.0L Aluminum Block |
| Sleeves | Extra Thick Ductile Iron Flanged Sleeves |
| Crankshaft | Forged 5.0L Steel Crankshaft |
| Pistons | Custom L&M Designed Diamond Pistons |
| Rods | Manley Pro I Beam Billet Rods |
| Rings | Total Seal Steel Rings |
| Rod Bearings | King Engine XPN Series |
| Main Bearings | King Engine HP Series |
| Fasteners |  ARP main studs and side bolts |


Freight charges apply and are processed separate. We will contact you to arrange shipping details after you place your order.