---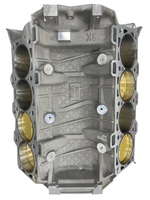 The LM3500 5.2L:

We expand on the durability of the stock Predator engine block by installing our own custom made proprietary sleeves, which feature extra thick sleeve flanges allowing for the ultimate in strength and capability of holding BIG boost. The Predator blocks are an improved design over the Coyote's. The KR3Z casting has added support webbing as well as structural support throughout the deck surface, as well as intake galley correcting the inferior Gen 1 & Gen 2 Coyote blocks. The Predator block also comes standard with the 12mm long head bolts that was often used to upgrade the late model Coyote engines.


All full engines and short blocks are race prepped, balanced, and blueprinted

Specs:
| | |
| --- | --- |
| Block | Ford 5.2L Predator Aluminum Block KR3Z Casting |
| Sleeves | Extra Thick Ductile Iron Flanged Sleeves |
| Crankshaft | Forged 5.2L Cross Plane Steel Crankshaft |
| Pistons | Custom L&M Designed Diamond Pistons |
| Rods | Oliver Heavy I Beam Billet Rods |
| Rings | Total Seal Steel Rings |
| Rod Bearings | King Engine XPN Series |
| Main Bearings | King Engine HP Series |
| Fasteners | ARP main studs and side bolts |


Freight charges apply and are processed separate. We will contact you to arrange shipping details after you place your order.