---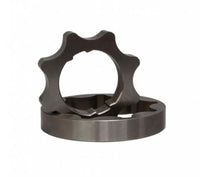 These gears are only for the 2011 - 2019 5.0L Coyote found in the Mustang.


Billet oil pump gears for the 5.0L Coyote Mustang engine are a must have upgrade if you are installing power adders beyond just mild bolt-ons. Precision machined using EDM and surface grinding processes out of solid steel billet instead of powered metal like the stock Ford gears. These are simply the best oil pump gears on the market and we use them in many of our hi-performance engine builds. Don't be fooled by cheaper inferior copies from competitors; we have found that they fail just as easily as the stock gears.
In the early 2000′s the Modular Ford aftermarket industry was plagued with inferior oil pump assemblies, many were made out of inferior metals and ill manufactured. Triangle Speed Shop saw the need of a quality set of gears to be produced, so with their industry background that is what they set forth to accomplish. With over 500 sets sold without a single failure brought to our knowledge, we believe they have set the standard for billet oil pump gear assemblies.
Comparison to the Competition:
There is no comparison, these Coyote billet oil pump gears are second to none and set the gold standard for oil pump gears. Sure there are other "cheaper" oil pumps on the market but we all know where cheaper gets us when building race inspired engines.
Standard Specifications:
- American made chromoly steel billets (Not powered metal like the stock Coyote oil pump gears)
- Heat treated to custom specifications to create a perfect balance of strength and wear resistance
- Machined with tolerances held to +/- .0005"
- Computer controller precision surface ground to pefection
- Each and every piece of every great set's hardness verified via Rockwell Scale
- All parts hand deburred and finished 
- Every set is selected by measurement to be grouped with its mate
- All tolerances measured and blueprinted to verify pieces are within +/- .0005"
In stock and ready to ship. We actively stock these gears and use them in many of our builds