---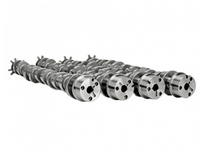 More Power Less Headache
Our race camshaft offering for the 2011 – 2014 Ford Mustangs equipped with the 5.0L Coyote modular engine. We almost recommend those with an early 2011 model year double check all clearances before completing the camshaft installation. Installations may or may not require lockouts.


Final installation requires an experienced tuner to calibrate throttle tip-in and decal. Properly tuned it should drive like stock. 


Requirements
- Springs Required
- Proper tuning


Specifications
- Proprietary grind for each customer

The L&M Edge
All of our camshafts are put through a QA process where they are verified against the design data to insure the final product matches our designated requirements. This results in consistent profile geometry and optimal final performance. If a camshaft fails quality assurance it is scrapped.